Accounting Humour is not a Oxymoron
Photo: An Accountant After Hearing A New Accounting Joke
Tuesday, November 24, 2015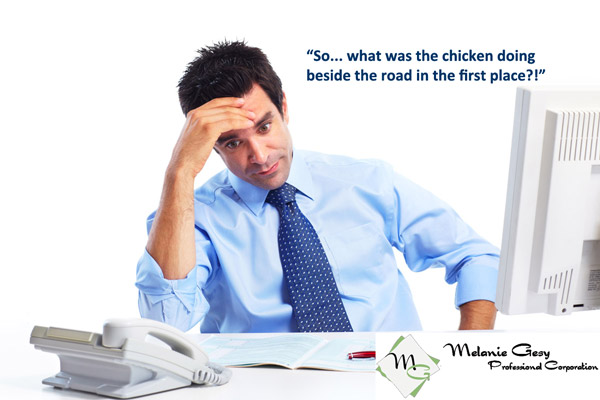 "Why did the Chartered Professional Accountant cross the road? To bore people on the other side."

In case you were wondering, the surprising truth is the well-respected CPA, CA pals you know have probably already heard the "awesome" accounting joke you'd been saving just for them. Based on personal observations, the average accounting professional's friends and family share every accounting-based jab, joke and jest with their number-crunching cohorts at every opportunity and with obvious glee. This is possibly because modern society rightfully encourages everyone to be considerate of other people's feelings and sensitivities. Unfortunately, however, this means the only groups left to make fun of, it seems, are lawyers, politicians and (heavy sigh) we accountants. Everyone knows the people that populate these three groups don't feel pain like 'normal' folks.

Stop Me if You've Heard This One

"Hey, Mel," they will say, "What do accountants use for birth control? Their personality!" Then they will laugh their butts off and wonder why I don't join in. They don't realize it was the hundredth time I've heard the same gag... that day.

Accountants are human? Who knew?

Despite our reputations for somber seriousness, the astounding reality is that accountants are actually human beings (really!) who enjoy fun and laughter as much as the next person. CPAs are actually okay with attempts at jocularity at their expense. Our only issue is we tire quickly of the oft-repeated chestnuts. We're talking jokes so old, they qualify for senior's tax benefits. Here's one such example; "When do people choose accounting as profession? When they discover they don't have the charisma to be a mortician."  Hilarious.

Accountants are Sharing Individuals
 As tired of the oldies as we CPAs are, upon hearing a new gag, however, we are always quick to share it with those in the biz.  Unfortunately, fresh accounting material is as rare as humble UFC contestants or Tim Hortons drive-throughs on Mars.
Flavours of the Weak

The difficulty is that accounting jokes come in so few flavors, they end up all being excruciatingly repetitive. There is the 'drudgery' flavor such as, "What do accountants do for fun? Add up the telephone book."
There's also the lack of social skills flavor as in, "How do you spot an extroverted accountant? When talking, they look at the other person's shoes instead of their own."
We can't forget, either, the uselessness flavor as found in, "What's the definition of an accountant? Someone who solves a problem you weren't aware you even had, in a manner you don't comprehend, at a cost you can't afford."
Let's not forget the excessive frugality flavor as typified by, "What's the difference between an accountant and a canoe?  Canoes tip."
Imagine a world with just four flavours! Pretty boring, right? That's our reality, sadly. So if we can't beat them, I guess we should join them.
Accounting Quiz.  Can you pass?

Can you guess the flavor of these other attempts at accounting humor?

Q. What did the accountant's wife say to her hubby when she had insomnia?
A. "Please tell me all about your day, darling. Don't leave anything out."

Q. What do accountants look forward to on weekends?
A. Wearing casual clothes to work.
Q. What's the difference between an accountant and a coconut?
A. You can get a drink out of a coconut.
Q. Why don't accountants count sheep to help them fall asleep?
A. If they make an error, it takes them hours and hours to find it.
Q. How did the accountant liven up the company Christmas party?
A. He stayed home.
The Obvious Conclusion

At the end of the day it is important to understand there are just three types of accountants; those who can count and those who can't.

See? We can take a joke!

Melanie Gesy graduated from the University of Alberta with a bachelor of commerce degree. She articled at a medium-sized firm where she gained knowledge and experience on small and medium sized companies. It was there that in 2006 she received her chartered accountant designation. In 2010 Melanie started her practice because she saw a need for friendly and affordable professional services for small businesses and entrepreneurial clients. Melanie has built her business around strong relationships with her clients and by helping them to grow and reach their goals.