MELANIE GESY NEWS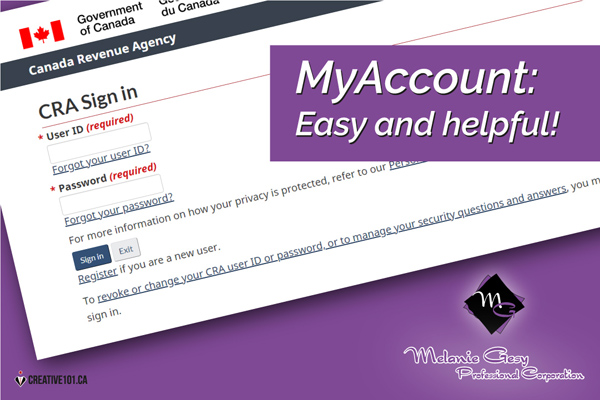 Sign up for CRA MyAccount today!
Save time and money!
Monday, December 06, 2021
Are you registered for the CRA's MyAccount?
The Canada Revenue Agency's My Account is a secure portal that lets you view your personal income tax and benefit information, as well as manage your tax affairs online.
It's available 21 hours a day, 7 days a week, with transactions processed immediately. You can track benefits, find assessment notices, check contribution limits and more. For a detailed list of services, click here.
Why should you sign up for this?
Once you are registered, you will be able to access your own information instead of being charged by your accountant or bookkeeper to find it.
Is it safe to use? 
CRA uses specially configured computer web servers and corporate firewalls to protect our servers from unauthorized access. Your personal information is securely stored on systems that are not directly accessible from the internet. The risk of your information being 'hacked' is very low. They are constantly updating their features to improve security for the users.
To sign up for this service, you will need:
your social insurance number

your birth date

your current postal code

your last tax return (it will ask you to confirm an amount from a specific line on your return)
Once you complete the sign up, you will only need your CRA user ID and password to sign in to your account.
If you're ready to get started:
Here is the link to the registration process for individuals: click here. 
Further down the page, you can find instructions for Businesses, as well.
We hope that you'll decide to enjoy the benefits that MyAccount has to offer. Keep your important information at your fingertips.
As always, please feel free to call or email us with any questions.
Author: Melanie Gesy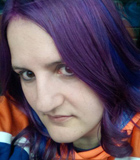 Melanie Gesy graduated from the University of Alberta with a bachelor of commerce degree. She articled at a medium-sized firm where she gained knowledge and experience on small and medium sized companies. It was there that in 2006 she received her chartered accountant designation. In 2010 Melanie started her practice because she saw a need for friendly and affordable professional services for small businesses and entrepreneurial clients. Melanie has built her business around strong relationships with her clients and by helping them to grow and reach their goals.