Professional Accounting Services in Leduc
Corporate, Personal and Not-for-Profit Tax Services
Here at Melanie Gesy Professional Corporation, I believe our clients deserve the best accounting and tax services possible.
I pride myself on having the knowledge, professionalism and friendliness to provide you with exceptional service.
What do I consider exceptional service?
Attentiveness. You're not made to feel you're a minnow in a pool of sharks.

My commitment to consideration. I return your phone calls.

Promptness. I don't make you wait forever to get what you have hired me to provide.

Fair pricing. My rates don't go up every year.

In your community. I provide services to small businesses and individuals in Leduc County and the greater Edmonton area.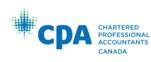 Melanie Gesy is a proud member of 
The Chartered Professional Accountants of Canada